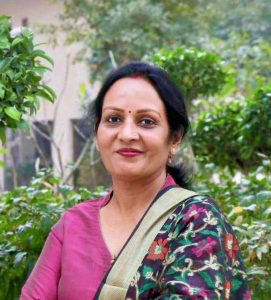 Dr. Namrata is an M.D in Alternative Medicines & Health Counselor with specializations covering Food Therapy, Naturopathy, Acupressure, Sujok Therapy and Music Therapy.
Her keen inclination towards health, education, social services and music has taken her to different cities in India and therefore the world.
She has been working with several organizations like ASSOCHAM and Drugless Healthcare Centre in diversified positions in lending a hand to form a difference within the social community.
Dr. Namrata has also shown commitment to non-government organization Tara Foundation as Adviser for community health and hygiene, women and child education, and ladies empowerment.
She is a visiting faculty at Delhi Institute of Naturopathy, besides being the Associate Doctor and Consultant at Stress & Spine Noida.
She is the visiting consultant in several hospitals of Alternative Therapies. She has treated a large number of chronic patients such as Gangrene, Stroke Patients, Sciatica, Spine and patients with different problems with drugless therapies.
Dr. Namrata has expertise in tackling normal health problems also as critical health care through drugless therapies during which she is extending her services especially to children, women and elderly.
She is a G certified health consultant and an honourable member of the Scientific & Technical Committee at AMARNA VIDA – a corporation for integrative and holistic health and wellness, in Portugal.
Dr. Namrata Gautam is currently Consultant & Counselor of Family Health & Wellness at Find My Peace.