Popular as birthstone, possesses ever changing colours, Black oplas are rare while white easily available. All nature's splendor seems to be reflected in the manifold opulence of fine opals – fire and lightnings, all the colours of the rainbow and the soft shine of the far seas. Australia is the classical country of origin. Almost ninety five percent of all fine opals come from dry remote outback deserts.
For ages prople have been believing in the healing power of opal. It is reported to be able to solve depressions and to help its wearer find the true and real love. Opals are supposed to further enhance the positive characteristics for people born under the zodiac signs of cancer. Black opal is recommended to those born under scorpio, and boulder opal is the lucky stone for Aries.
Opal has symbolized hope, innocence, and purity through the ages. In the middle ages, young, fair – haired girls wore opals in their hair to protect its lovely blonde colour. Medieval writers believed opal could render its wearer invisible when the need arose. It was also said to have a beneficial effect on eyesight. It was thought to banish evil spirits and favour children, the theatre, amusements, friendships and feelings.
---
The stones are available in wide range & various sizes in form of Ring/Pendant. All stones are 100% lab certified and delivered with lab certificates:
Size Available: 5.25 Ratti (4.85 Carat) (Other sizes are also available on demand)
Metal: Ashtdhatu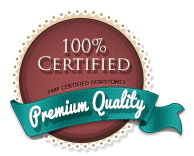 BUY RING
BUY PENDANT