According to the astrology in the west, this particular stone is considered to be the birth stone for the Sagittarius zodiac . In the Vedic astrology, it has been referred to as the substitute stone which belong to the planet Jupiter and the birthstone for the people born under Sagittarius and Pisces zodiac sign. This particular sub-stone is connected with the beneficial effects of the planet Jupiter, which are mainly self-respect, wealth, good health, wisdom and prosperity.
Benefits :
connected with the benefic effects of the planet Jupiter, this particular stone is best suited for Individuals seeking to use or wear it, as it showers them with bliss, respect, success & leisure in life. Individuals, who are studying, should wear this particular sub-stone to achieve good benefits, particularly the class who are advocates. It is extremely beneficial for the people, who want to get rid of the diseases linked with liver, kidneys and obesity.
Features :
Three most important aspects are transparency, shape and qualit of this stone. It appears to be more dense and consistent in the color and shine, the more the refined color & shine higher would be the price of this stone.
Why Find My Peace:
We offer certified gemstones with authentic lab certificates to our customers. Ensuring full customer satisfaction, we make sure that our customers have a delightful experience when they start using our products and become the part of Find My Peace family.
---
The stones are available in wide range & various sizes in form of Ring/Pendant. All stones are 100% lab certified and delivered with lab certificates:
Size Available: 5.25 Ratti (4.85 Carat) (Other sizes are also available on demand)
Metal: Ashtdhatu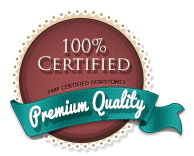 ORDER RING
ORDER PENDANT