As per the Indian vedic astrology, this purple colored attractive stone is related to Saturn (shani) and is being considered as one of the best suited sub stone for Blue Sapphire. Like Blue Sapphire gemstone, it is also recommended to the individuals having their sunsigns of Aquarius & Capricorn. Wearing Amethyst helps one in removing the malefic and ill effects of Saturn (shani) and blesses with money,respect and good health. Some learned astrologers also recommends this stone to the individuals born under sun signs of Aries, cancer, Leo and Scorpio.
Benefits:
If any individual who is advised to wear this stone may get blessed with wealth, respect and mental peace. One can also wear amethyst to discard the malefic effects caused by the unfavourable positions of Shani (saturn) .i.e. Laghu kalyani dhaiya, Shani sadhe satti and Shani mahadasha (favourable position).
If one wears Amethyst it ensures progress in work, as it enhances the thought process of a person and hence enables them to harness the opportunities in thier lives in a better way. It also makes the wearer hardworking and he/she can attain more dedication towards work.
It also helps individuals with diseases related to Saturn like arthritis, back bone & other shoulder related problems. It helps one in the curing process of the disease.
Features:
The main features of Amethyst which is also known as Jamuniya, Billauri, Kateyla include its cutting, color and transparency which should particularly be free from any kind of chemical treatments and other kind of wear and tear. Amethyst worn specifically for the astrological purpose and it should have a deep & rich purple color and also it should be damage free.
Why Find My Peace:
We offer certified gemstones with authentic lab certificates to our customers. Ensuring full customer satisfaction, we make sure that our customers have a delightful experience when they start using our products and become the part of Find My Peace family.
---
The stones are available in wide range & various sizes in form of Ring/Pendant. All stones are 100% lab certified and delivered with lab certificates:
Size Available: 5.25 Ratti (4.85 Carat) (Other sizes are also available on demand)
Metal: Ashtdhatu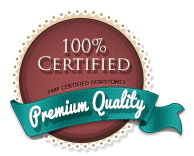 BUY RING
BUY PENDANT