As per the Indian vedic astrology, citrine is the sub-stone of Jupiter and it is best suited for the individuals having zodiac signs of Sagittarius and Pisces . however for western astrology, citrine is a birth stone for the Sagittarius. It is being termed as one of the best substitutes for yellow sapphire/Topaz, citrnine belongs to the quartz family which is quiet cheaqper in terms of price and quality, citrine is considered to be extremely beneficial for Individuals in order to gain the benefits from the Jupiter showering its wearer with enhanced confidence and respect in the society, strong decisive power and increased execution capacity.
Benefits:
Citrine is being considered beneficial. For individuals in terms of good fortune and prosperity. It undoubtedly improves financial status and prosperity of the wearer. Not only that wearing citrine blesses its wearer with increased mental strength and self-determination and helps one in the fields of education, law and justice. It is believed that the students, who are aiming for the higher education, should wear citrine as Jupiter is directly involved with studies. It is also beneficial for good health and benefits patients in ailments of liver and diabetes.
Features:
A good looking citrine stone is judged by its shape, color and transparency. Citrine which is super shiny and free from any kind of damages and scratches is always considered to be beneficial for the astrological remedies. Consistency in the color and the shape are the trademarks of a good quality citrine. The colors of citrine varies from dark yellow to brownish shades.
Why Find My Peace:
We offer certified gemstones with authentic lab certificates to our customers. Ensuring full customer satisfaction, we make sure that our customers have a delightful experience when they start using our products and become the part of Find My Peace family.
---
The stones are available in wide range & various sizes in form of Ring/Pendant. All stones are 100% lab certified and delivered with lab certificates:
Size Available: 5.25 Ratti (4.85 Carat) (Other sizes are also available on demand)
Metal: Ashtdhatu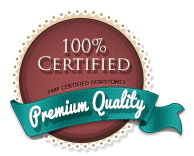 BUY RING
BUY PENDANT