Rubies and Ruby jewelry throughout time have been said to have many positive effects and mystical properties. The Ruby is associated with the sun, and was thought to preserve mental and physical health. In the middle ages, rubies were viewed as a stone of prophecy. It was thought the stone darkened when danger was near. Ivan the terrible of Russia stated the rubies were good for the heart, brain and memory. A thirteenth century prescription to cure liver problems called for powdered ruby .In the 15th -16th centuries, rubies were thought to counteract poison. When rubbed on the skin, they were also thought to restore youth and vitality.
For thousands of years, ruby was considered the stone of love, energy, passion, power, and a zest for life. Like no other gemstone in the world, Ruby is the perfect symbol for powerful feelings. The other important element of ruby besides fire I blood, and ruby is said to restore vital life forces and increase energy and vigour. Ruby is also known as the stone of courage, and legends tells us that a person possessing a ruby can walk through life without fear of evil or misfortune. Physically, rubies are thought to energize and balance, stimulate heart chakra and encourage a passion for life, but never in a self destructive way. They overcome exhaustion and calm hyperactivity. They detoxify the body and blood, and treat fevers, diseases, and restricted blood flow. They are good for the heart and circulatory system and stimulate the adrenals, kidneys, reproductive organs and spleen.
Emotionally it is believed that rubies improve motivation and the setting of goals. They promote positive dreams and clear visualization and aid in retaining wealth and passion. They bring up negative anger in order for change and removal. They also promote dynamic leadership. They bring a positive and courageous state of mind , one that is sharp, hyper aware and concentrated. They make you stronger during times of controversy or dispute and shield against physical attack. A ruby is also said to be a settler of disputes, having the power of reconciliation. A ruby is dynamic, and brings about passion and enthusiasm, attracting sexual activity. Any jewellery that carries a ruby signifies so much passion and love between two people, that it makes Ruby an ideal choice for engagement or Valentine 's Day jewellery. Furthermore, Ruby is the gemstone to be given on the 15th and 40th wedding anniversaries. The uplifting and vital nature of Ruby is an encouragement to live fully, and embrace the joy of life that is missing in many people's live fully, and embrace the joy of life that is missing in many people's lives. Ruby allows the fire of passion and loved to advance .It helps to bring down the walls we build around us to keep others out.
---
The stones are available in wide range & various sizes in form of Ring/Pendant. All stones are 100% lab certified and delivered with lab certificates:
Size Available: 5.25 Ratti (4.85 Carat) (Other sizes are also available on demand)
Metal: Silver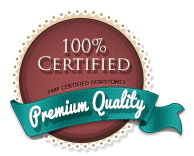 BUY RING
BUY PENDANT