Zircon is a preferred stone for sunsign Libra. In Indian vedic astrology, zircon stone strengthens Venus (Shukra) and is the substone/upratna for zodiac Libra (Tula) and Taurus (Vrish). Zircon gemstone strengthens Venus, which rules the love and married life of a person, It also gives its wearer mental peace, confidence, a good attitude, health benefits and marital bliss. Those individuals who has ascendants of Virgo, Gemini, Aquarius and Capricorn can also wear a Zircon gemstone.
White Zircon should preferably have high clarity and should be colorless. Blue Zircon should preferably have a deep blue color. For Astrological purpose, Ceylonese Zircons (Sri Lankan) are considered to be the best Zircons.
Benefits:
According to Vedic astrology being substitute of diamond wearing zircon brings passion, health, understanding and satisfaction from one's love affair or marriage. The main benefits of wearing zircon stone is the bringing of harmony and peace into a disturbed married life .Medically, Zircon is said to help keep hormonal balance' right and protects from any kind of hormonal imbalance related ailments. It is said that zircon is very benefitial for the patients having urinary and reproductive problems. Zircon enhances the confidence of its wearer and makes one more confident, charming and sure of themselves. It also helps in improving the social life.
Features:
A good quality Zircon depends upon its cut, color and clarity. For Astrological use, the zircon's quality depends mainly on its clarity. Zircons are generally colorless. The cut of a Zircon has only ornamental significance and not any kind of astrological significance.
Why Find My Peace:
We offer certified gemstones with authentic lab certificates to our customers. Ensuring full customer satisfaction, we make sure that our customers have a delightful experience when they start using our products and become the part of Find My Peace family.
---
The stones are available in wide range & various sizes in form of Ring/Pendant. All stones are 100% lab certified and delivered with lab certificates:
Size Available: 5.25 Ratti (4.85 Carat) (Other sizes are also available on demand)
Metal: Ashtdhatu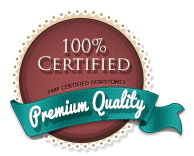 BUY RING
BUY PENDANT