According to the western astrology, this stone is considered as the birth stone for Leo. It is widely used in different ways and in the different colors in which it is mainly found. The green colored onyx is used as a substitute stone for Emerald. The black colored onyx is used to avoid the malefic and ill effects of Saturn. It is also used to control the mind and brain. Because of its high energizing quality, it is majorly been worn by the athletes to enhance performance.
Benefits:
Onyx is an excellent stimulator for strength, stamina and enhances self-regulation. It helps individuals overcome from the diseases like bones, bone marrow and blood.
Features:
A good quality onyx is known by its transparency, shape and quality. Higher , it's shine, sharpness and consistency in the color, higher would be its price. Jyotish suggests the onyx, which is transparent from both the sides, is always better.
Why Find My Peace:
We offer certified gemstones with authentic lab certificates to our customers. Ensuring full customer satisfaction, we make sure that our customers have a delightful experience when they start using our products and become the part of Find My Peace family.
---
The stones are available in wide range & various sizes in form of Ring/Pendant. All stones are 100% lab certified and delivered with lab certificates:
Size Available: 5.25 Ratti (4.85 Carat) (Other sizes are also available on demand)
Metal: Ashtdhatu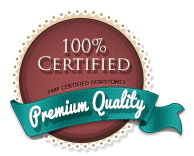 BUY RING
BUY PENDANT