Agate popularly known as "hakeek" is considered as the gemstone, for luck. This Sub-stone, boosts and help in flowing positive energy in the one who wears it, which consequently keeps them happy. This sub-stone is also used in the fengshui which is another form of spiritual sciences, according to which this stone should always be placed with a laughing buddhaa and with other significant feng shui materials.
Benefits:
It is believed that wearing agate or having possession of agate increases one's self confidence remarkably. It flushes out the negative energies if any and removes one's depressed thoughts, confusion and mood swing behavior of the wearer. This stone is also being considered as the protective stone and hence is worn for the overall protection and security.
It guards you against the evil eye which is the most common problems now a days and does not let any kind of bad & evil spirits harm you. Some elders also suggests new mothers to keep this stone beside a newborn child to protect him/her from the evil eye. If you keep this stone in the bedroom it ensures a good night sleep and it guards its wearer from the habit of waking up unexpectedly by some shock or bad dream.
It is an extremely preferable stone to maintain a balance between mind and heart, which is very much necessary for a good decisive mind. Agate is very useful for the Individuals who want stronger relationships. It strengthens love in the married couples as well.
Features:
The major feature of any gemstone depends on their shape and the color. More is the shine and the color intensity; more would be good in quality. If you buy agate for its healing effects, then you have to be really careful that it should be free from damages, should have good lustre and is not used by anyone before.
Why Find My Peace:
We offer certified gemstones with authentic lab certificates to our customers. Ensuring full customer satisfaction, we make sure that our customers have a delightful experience when they start using our products and become the part of Find My Peace family.
---
The stones are available in wide range & various sizes in form of Ring/Pendant. All stones are 100% lab certified and delivered with lab certificates:
Size Available: 5.25 Ratti (4.85 Carat) (Other sizes are also available on demand)
Metal: Ashtdhatu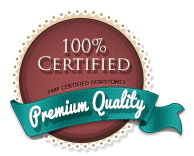 BUY RING
BUY PENDANT